Wanted: Young Champions for the Ocean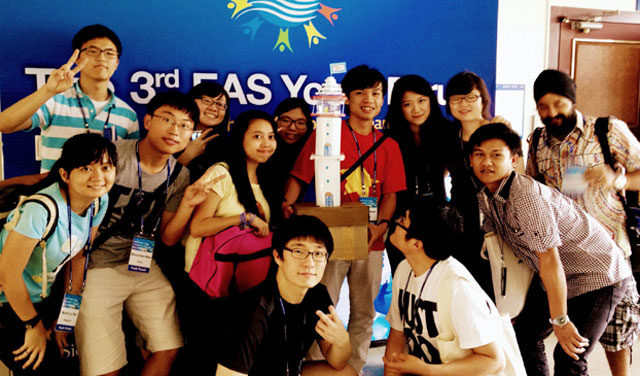 Manila, Philippines — The East Asian Seas (EAS) Congress 2015 Secretariat launches the Call for Youth applicants for the Fourth EAS Youth Forum to be held in Danang, Vietnam, from *November 16-21, 2015.
Now on its fourth cycle, the EAS Youth Forum (YF4) carries the theme, "Charting the Future We Want: Engaging Young Champions for the Ocean Beyond 2015." The YF4 will gather young leaders in the EAS region to showcase their initiatives contributing to the achievement of the sustainable development agenda. Putting the youth as actors for, and stakeholders to a healthy world, the YF4 will encourage participants to display ideas and convictions, innovative frameworks, approaches and methodologies in addressing pressing environmental issues in their respective communities.
The EAS Youth Forum (YF) is one of the special events of the EAS Congress which was first launched in 2006. The 1st YF adopted the Youth Agenda for the Seas of East Asia, detailing a plan of action on informing, inspiring and involving the region's youth. In 2009, the 2nd YF committed to the sustainable development of the seas of East Asia through the Youth Statement and Country Work Plans. The 3rd YF in 2012 formulated the Changwon Youth Declaration on the Protection of the Seas of East Asia.
The YF4 is open to youth from the countries of the East Asian Seas region: Brunei Darussalam, Cambodia, China, DPR Korea, Indonesia, Japan, Lao PDR, Malaysia, Philippines, RO Korea, Singapore, Thailand, Timor-Leste and Vietnam. The youth applicant must be 18 to 25 years of age, a university or graduate student or young professional, and is an active member of youth organization/s and institution/s working in the field of sustainable development.
Interested youth should complete the Application Form and secure endorsements from ICM Project Management Office Directors for participants from ICM sites or Supervisors/Advisers for participants from youth organizations and universities.
All applications will be reviewed by a screening committee in the PEMSEA Resource Facility. List of participants selected by the screening committee will be forwarded to the PEMSEA National Focal Points (NFPs) for final confirmation and endorsement. The YF4 provisional programme, as well as application and endorsement forms are already available online and may be downloaded from the EAS Congress 2015 website at http://eascongress.pemsea.org/youth-forum. Deadline for applications is on March 31, 2015, and the selected youth participants will be announced on May 31, 2015.
*The change in EAS Congress dates to 16-21 November 2015 from 17-21 November 2015 takes into account the activities of the Opening Ceremony and Registration. The actual conference workshops commences 17 November.