PEMSEA Kicks Off Preparations for EAS Congress 2015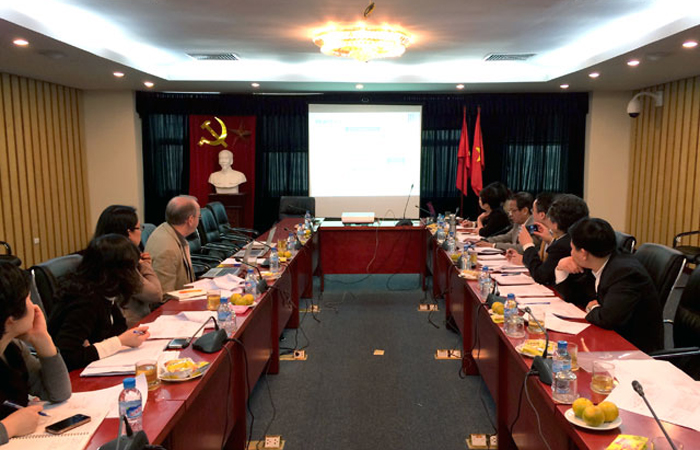 Hanoi, Vietnam— PEMSEA has commenced its initial preparations for next year's East Asian Seas (EAS) Congress, with the Government of Vietnam confirming its commitment to host the next triennial event.
In a recent meeting with PEMSEA, Mr. Vu Sy Tuan, Deputy Administrator of the Vietnam Administration for Seas and Islands (VASI), related that Prime Minister Nguyen Tun Dang has issued a decision to officially host the EAS Congress 2015 and Fifth Ministerial Forum. Vietnam's Ministry of Natural Resources and Environment (MONRE) was designated as the key coordinating agency, with VASI providing additional support.
Considered as PEMSEA's pioneering legacy, the EAS Congress provides a platform for regional experts and thought leaders on coastal and ocean governance to share experiences, build partnerships and monitor the region's progress in achieving the regional targets guided by the Sustainable Development Strategy for the Seas of East Asia (SDS-SEA).
In view of the key targets set by the SDS-SEA and other major international instruments by 2015, the next EAS Congress and Ministerial Forum will assess the progress and impact made in the region, as well as set new targets for strengthening regional, national and local implementation. The EAS Congress 2015 will serve as a platform for the region to announce and commit to new targets aligned with the post-2015 global sustainable development agenda.
The EAS Congress 2015 will have the theme "Global Targets – Local Benefits: Setting the Sustainable Development Agenda for the Seas of East Asia beyond 2015."  Subthemes include: Celebrating a Decade of Partnerships in Sustainable Development of the Seas of East Asia: Synergies and Achievements; Accelerating Actions for Sustainable Development; and From Vision to Reality: Aligning the Global Agenda with Local Benefits. For more information, download the Congress information brochure.
Vietnam's decision to host the EAS Congress provides a good opportunity for the region to learn from the country's substantial experience in coastal and ocean governance. ICM implementation by local governments in Vietnam, such as those in Danang, Quang Nam and Thua Thien Hue, demonstrate how sustainable coastal development can be achieved at the local level.